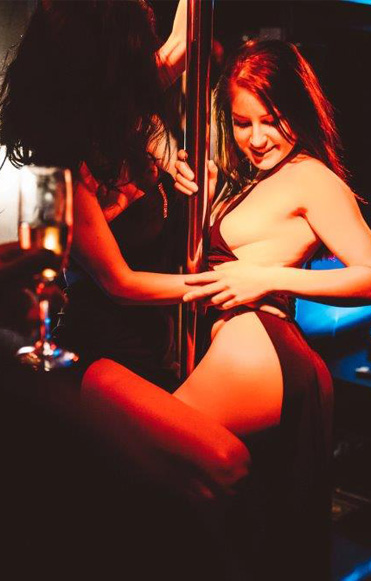 Rick's Cabaret the legendary choice of strip clubs in NYC
If you want classy, if you need classy, if you have to have classy, it doesn't get any classier than Rick's Cabaret. Rick's boasts numerous awards, reflecting the sexiest entertainment, hospitality and New York City's incredible view of the Empire State Building. It's the best strip club experience the east has to offer. Again, it doesn't get any classier than that.
A 3 level bundle of indulgence, enjoy every level from the gourmet steakhouse on the second floor. Or gratify your senses in Midtown Manhattan's famous skybox, the Crystal Room, a VIP's dream with its own sound system and big-screen television. For a more intimate setting, join us on the 3rd floor in one of our VIP suites, with a beautiful private bartender and any sexy entertainer of your choice. Top it off in the Smoking Deck and Garden on the roof, where you can view Midtown Manhattan's skyline and the Empire State building. Enjoy a cigar, Hookah and skyline as you take in this breathtaking view. On any night, you'll find over 100 beautiful dancers parading through the club's 4 stages, or entertaining in our luxurious private champagne suites.
The local New Yorkers love the daily $10 Prix fixe Happy Hour. The special includes an entrée, a soup or salad and a dessert. Enjoy it along with $8 drink price specials and complimentary admission from 11am-8pm every Monday- Friday.
On Saturday and Sundays, Enjoy a $15 prix fixe menu from the club's top rated steakhouse. This includes no cover till 7pm, brunch and a choice of signature cocktails such as Mimosas, Bloody Mary's, Mojitos and a Greyhound, a recipe taken right out of Harry Craddock's The Savoy Cocktail Book. The menu includes scrumptious items such as eggs benedict, chicken and waffles, and omelets. So what do you say, join us at Manhattans best strip club in town?